Berglund Seminar Series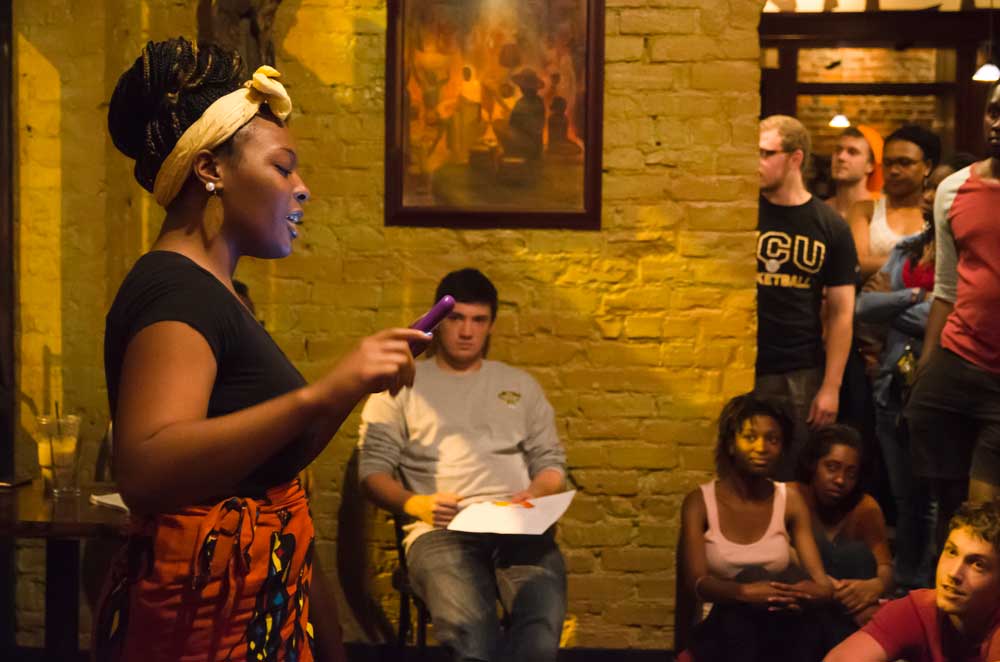 Each semester the Honors College invites faculty and community partners to participate in our Berglund Seminar and Diverse Conversations series. The purpose of the series is to generate meaningful discussions and debates outside of the classroom on topical—and sometimes controversial—subjects.
VCU faculty have presented on a range of subjects from e-cigarettes, to 3D printing museum artifacts, to representation and identity. We have also had community partners discuss topics like affordable housing, the GRTC Pulse and Richmond transit system and helping families of inmates.
Our Diverse Conversations are designed to bring a small group (10-15) of students together to engage in conversation around topics of diversity and inclusion specifically. In contrast, the Berglund Seminars can be on a variety of topics and are open to the public.
Honors students can earn five engagement points for attending a Berglund Seminar.
The Berglund Seminar schedule will be announced at the beginning of each semester. All seminars will be listed in the Honors Weekly Update.
March Berglund Seminars
Developing Cultural Agility through VCU Global Learning
March 16 | 3:30 p.m. Virtual (Zoom Link)
Speaker: Stephanie Tignor, Director of Global Learning, VCU Global Education Office
Description forthcomig

What Every Consumer Should Know About Data Privacy
March 28 | 4:30 p.m. | Virtual (Zoom Link)
Speaker: Cheryl Black, VCU Adjunct Professor
Data has been the driving force behind most successful business decisions in the last decade. (Jatin Kumar, Copper Mobile). It is has also been the subject of a myriad of federal and state privacy laws. With businesses vying for more data and legislatures proposing more privacy regulations, it's important that consumers understand that it is their data that is at issue. This seminar will provide consumers with an introduction to data privacy and explain why it is such a hot topic and why they should care.
April Berglund Seminars
Transcranial Magnetic Stimulation: A Non-Invasive Neuromodulation Technique for Altering Brain Functions
April 4 | 4 p.m. | Honors College Multipurpose Room 1303
Speaker: Ravi Hadimani
Transcranial Magnetic Stimulation (TMS) can tune brain functions non-invasively, safely, and effectively without the need for surgery or drugs. Thus, it can enable the treatment of several debilitating
Boosting Upward Mobility from Poverty
April 20 | 4:30 p.m | Virtual (Zoom Link)
Speaker: Aaron R. Williams, Senior Data Scientist at the Urban Institute
Economic and social mobility are core to the American dream but they are not guaranteed. What does it mean to be mobile? What predicts mobility? What policies can leaders adopt to foster upward mobility? To answer these questions, the Urban Institute assembled experts from many disciplines to develop and select 25 predictors of economic success, power and autonomy, and sense of being valued in a community. Next, the Urban Institute constructed a rich data set with 25 mobility metrics for every county in the United States.
This talk will explore economic mobility in the United States, examine mobility data for the Central Virginia region, and discuss strategies adopted by leaders to foster upward mobility.