Class of 2023: Honors Student Finds Her footing with an Interdisciplinary Approach and a New Interest in Research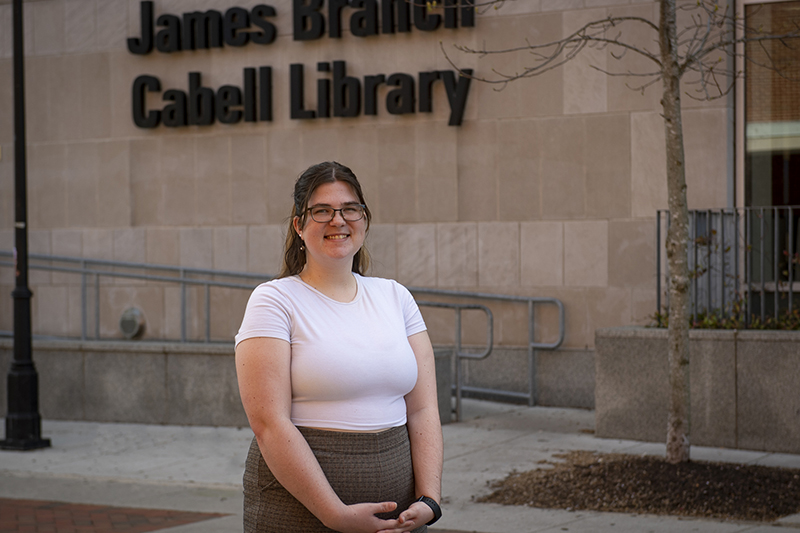 By William Lineberry
University College & Honors College
In the end, things have a way of working out – that's one adage that Emma Geisler, a Virginia Commonwealth University Honors College student who will graduate this spring with a bachelor's degree in interdisciplinary studies from University College, knows from experience.
Geisler's time at VCU can be broken down into two chapters: when she first came to the university and then when she returned to VCU after a leave of absence, which was taken her freshman year when she needed to take a break to prioritize her mental health.
"Life was just like, 'No, this is the path you're supposed to go on,'" Geisler, who is from Midlothian, Virginia, said. "Everything in life was telling me I needed to be home, and it might not have been my plan of action but sometimes life has its own plan that you have to roll with and be accepting of."
It was when Geisler returned to her studies after her leave that her academic world started to change. Meanwhile, she was serving as her mother's primary caregiver after she was diagnosed with cancer. Guided by her professors in IDS and the Honors College, Geisler began to explore her interest in interdisciplinarity and carve out her own path toward graduation.
"I think enrolling into IDS really gave me the opportunity to really kind of combine everything that I was into a major," Geisler said. "VCU really gave me the opportunities to explore, and I found myself in more areas than I was expecting. I just was given a lot of avenues that I never knew were an option for me."
VCU really gave me the opportunities to explore, and I found myself in more areas than I was expecting. I just was given a lot of avenues that I never knew were an option for me.
One area that Geisler did not expect to be drawn toward was research. But after taking Rhetoric (a required course for all VCU Honors College students) with Mary Boyes, an associate professor in the Honors College, she began to see research in a different way. Through research, Geisler began to see how all her interests – Spanish, health equity, sociology and more – could be considered together.
From that class, Boyes encouraged Geisler to apply to the Humanities Research Center where she was accepted as an honors fellow in the newly founded Health Humanities Lab. As a fellow, Geisler has worked with her peers in the HHL to create a learning module for VCU Health and the general public about skepticism in clinical trials for marginalized groups. Geisler also has served as a teaching assistant for Boyes during the past two years.
Thus far, Geisler and her peers have presented at a conference at Christopher Newport University and are scheduled to present their work again in June at a conference hosted at George Mason University.
This experience, as well as her capstone for IDS have cemented her interest in pursuing public health as a career, she said. After graduating, she plans to attend graduate school to study public health with a focus on immigration.
"I want to play a role in helping health disparities be addressed, especially in relation to Latino immigrant health," she said. "I think the ultimate thing is that I don't want immigration to be a determinant of someone's health. That's what I am hoping to do with my work."
Geisler credits much of her success to the relationships she established with faculty as an undergraduate both in and outside of the classroom, with Boyes being a major source of inspiration and help along with Christy Tyndall, Ph.D., assistant professor and student well-being coordinator in the Honors College. Tyndall helped Geisler launch "Storytelling and Healing," a student club she co-founded in summer 2020. The club, which helps students achieve empowerment, resilience, growth and self-discovery of the individual voice, was the recipient of the 2022 Tristen Sloane Presidential Award for Community Multicultural Enrichment.
"It's just nice to know you have people behind you," Geisler said. "I just was not ever expecting to have that real connection with faculty, especially since VCU is so large, but I was able to find that here."
Reflecting on her undergraduate career, Geisler said though it's not how she would have predicted it she is glad she came out the other side and feels all the more stronger for it.
"It's been a very long journey for just four years with life's ups and downs – with my leave of absence, my mother's diagnosis, COVID, navigating my degree aspects – but it's a journey I am eternally grateful for."