Honors alum explores the intersection of art and diplomacy as Fulbright Scholar
By William Lineberry
lineberrywd@vcu.edu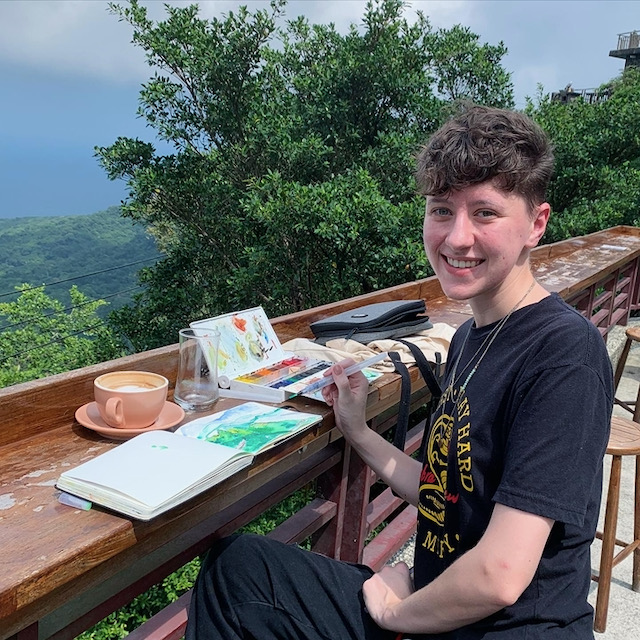 Colleen Connolly (B.A. Graphic Design & Honors, 2020), did not know how to feel when she read the email informing her that her Fulbright placement had been cancelled by former President Trump's Executive Order 13936. The order stated that all Fulbright placements in China were suspended, effective immediately, for two years.
"It blew me away," Connolly said. "It really took me down."A woman sits at an overlook sketching in her journal
So much had gone into her application to be a Fulbright scholar in China. The entire proposal she submitted around studying museum design in the country, all the years prior visiting and studying in China through trips with VCUArts and the under the Critical Language Scholarship, all the people she met, the connections that she forged, it all led to one day being able to be a Fulbright in China. And with the stroke of a pen the whole plan was upended.
But, there was a second chance waiting. The Fulbright Council went immediately to work after the Executive Order took effect and began creating alternative arrangements for Colleen's cohort.
Colleen had one month to redraft a proposal and select another country and university to study under. She got to work and drafted a new proposal and chose a new country that was able to accept Fulbright scholars—Taiwan. Her proposal was accepted right after her graduation in May 2020 and she has been studying museum design in Taiwan since last March.
Nearing the end of her nine-month Fulbright, Colleen could not have imagined it going any other way.
"Everything that I wanted from my time studying and working as a Fulbright in China has been possible here in Taiwan: practicing my Chinese, meeting open and interesting people, going to world-class museums, getting an amazing education have all been fulfilled here," Colleen said. "It's just been such a fascinating experience and adventure to have."

It's just been such a fascinating experience and adventure to have.
When asked what one of her biggest takeaways will be from her time studying art and museums in Taiwan as a Fulbright Scholar, Connolly said it was the intellectual independence that this opportunity provided her.
"In these situations where you're given incredible freedom with a grant, just being so confident and letting yourself go toward where you want to do at that moment is so important. From day-to-day, I am able to do multiple given things at once. I'm doing my Fulbright research and then I'm able to visit museums and talk with people at the university. There's something really special about that trust."A young woman introduces herself to a group of students in Taiwan.
Being awarded a Fulbright coming out of undergraduate is not an easy thing to accomplish. Connolly, who is 23, feels that the experience, along with her time in Honors and the VCUArts Graphic Design program, has helped her mature quickly as a professional and recognize her true academic and artistic interests.
"I have to give credit to Honors for making me write so much," Connolly said with a laugh. "It's all I do now [writing]. I document good design. I document museum design. And I have put together a blog about my time as a Fulbright, which is basically [Honors] Rhetoric 2.0 where I take a big bite out of a subject and read source materials around it and write."
Read Colleen's blog about her Fulbright research.
Connolly also gave credit to the VCUArts Graphic Design program and its professors for teaching her how to utilize design thinking in her everyday life, as well as Jeff Wing and Meredith Sisson from National Scholarship Office for encouraging her to apply for a Fulbright grant and assisting her in the application process.
Connolly's time as a Fulbright scholar has already resulted in a conference presentation (and accompanying publication) where she discussed the role of "designer as diplomat." Her paper and presentation discussed how museum design can be utilized as a tool for cultural diplomacy.
Watch Connolly's conference presentation.
Connolly hopes that her research will help "raise awareness about the importance of multilingual design" and help "encourage designers to think critically about the future of accessibility" in public art institutions.
After her Fulbright is over in November, Connolly plans to start exploring her interest in typography and the cultural significance of bilingual design and translation. To learn more about Colleen and to view her work, visit her website.
VCU students and alumni who are interested in applying for national, or international, scholarships can contact The Honors College National Scholarship Office for more information on available scholarships and upcoming deadlines.