Honors Student, Faculty Member Research How to Better Address the School to Prison Pipeline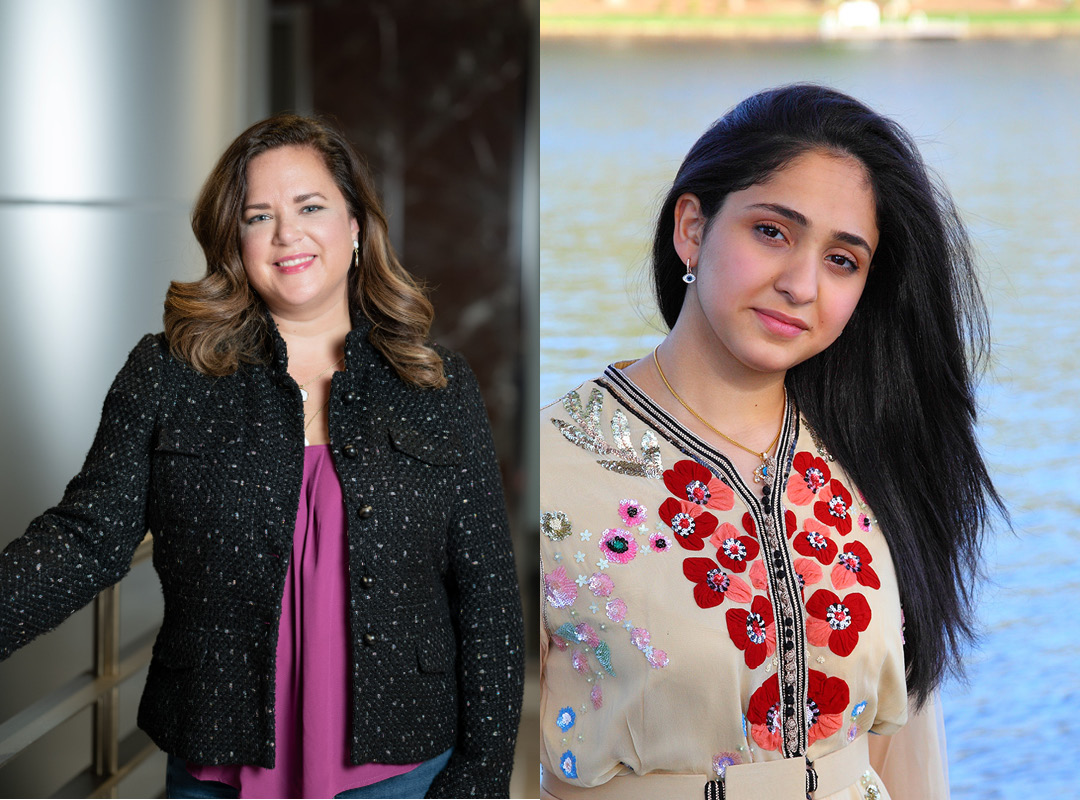 By William Lineberry
lineberrywd@vcu.edu
Rana Ansari has always been drawn to examining the disparities–in trying to close gaps and bring equity and opportunity closer for all.
When she was in high school Rana took an interest in examining the disparities that affected the refugee community in her hometown of Spotsylvania. And that interest continued when Rana started at Virginia Commonwealth University as a freshman in the Honors College and wanted to examine issues and disparities that were in Richmond.
As Rana, who is now a rising sophomore, was applying to the Honors Summer Undergraduate Research Program and began reading about the projects students could apply to help research with one issue jumped out immediately: the school to prison pipeline.
"I had heard of it before but I had no idea it was such a big issue in Virginia," Ansari said. "That's what led me to want to work with Dr. Kellie Carlyle."
As Rana, who is also in the Honors College Guaranteed Admission Program for Medicine, started working with Carlyle, a professor in Health Behavior and Policy at the VCU School of Medicine, she started to understand how widespread and systematic the school to prison pipeline really is, she said.
"When Dr. Carlyle started telling me about the last youth prison in Virginia, I started to think about people my age being in there and thinking about what I did to be lucky to be here," Rana said.
Throughout the summer, Rana and Carlyle focused their HSURP research project on working with a nonprofit called Rise for Youth to assist on a campaign that is focused on moving the Department of Juvenile Justice from Homeland Security to the Department of Human and Health Services.
The hope is that more appropriate resources for the youth that are currently in the system can be delegated if the switch from Homeland Security to DHHS is made, she said. The campaign, which launched in late July, carries the tagline "Redefine the Vital Signs."
"We're trying to redefine what it means to have a healthy community and what it means to support youth," Ansari said.
We're trying to redefine what it means to have a healthy community and what it means to support youth.

Through HSURP, Rana has developed an interest in pursuing public health in addition to Medical School, she said.
"Originally I thought public health was just looking at statistics," Ansari said. "Through this project I learned that it's a lot more nuanced than that. It's about understanding that the social determinants of health make up a person and also understanding that people's trauma and their past can make up who they are. It's something to remember no matter who I interact with."
Carlyle added that working with Rana helped bring a new perspective into the project and that her ability to contribute immediately made a huge impact on the project overall.
"Rana jumped right in and immediately contributed great ideas," Carlyle said. "It was wonderful to work with an undergraduate student who was able to bring fresh ideas and a different perspective to the project. Her contributions were invaluable, and this summer experience was just the beginning for us. I hope to be able to continue working with her throughout her time at VCU and can't wait to see all the amazing things she accomplishes."
Through the remainder of her time in undergraduate, Ansari said she hopes to continue working with Carlyle on future research projects. After graduating, she hopes to pursue her master's in public health and internal medicine at the VCU School of Medicine.
"The more you get into research the more you can see how it applies to your own life and how it can apply to lives of others and help them," Ansari said. "There are no wasted opportunities in research. I feel like HSURP has kind of changed me in the way that I view science and the world."