Honors Student Named Emerging Scholar of the Year by Virginias Collegiate Honors Council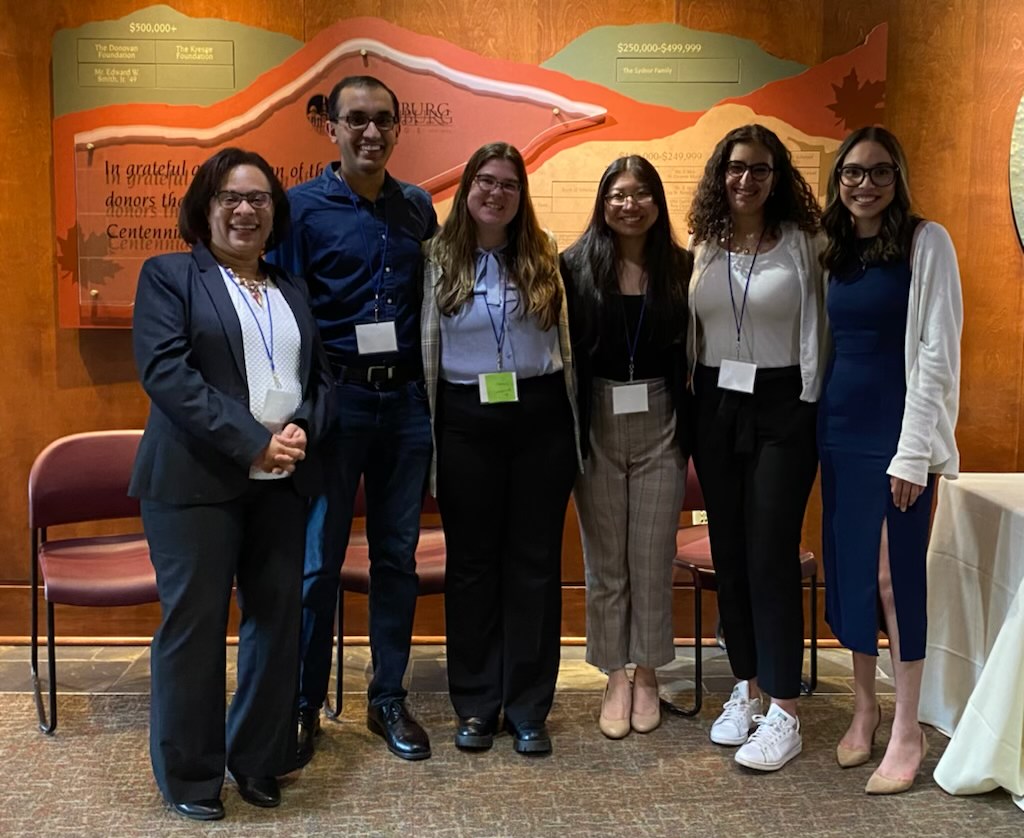 A Virginia Commonwealth University Honors College student has been named the 2022 Emerging Honors Scholar of the Year by the Virginias Collegiate Honors Council.
Kameron Jones (far right), a sophomore Biology major and Chemistry minor in the College of Humanities and Sciences, received the prestigious award last week at VCHC's annual conference, which was held this year at the University of Lynchburg. The award is given to a student who successfully embodies the scholarship, character and ambition associated historically with honors students in VCHC.
"I'm both honored and humbled to receive the Emerging Honors Scholar of the Year award from the Virginias Collegiate Honors Council," Jones said. "Being part of the VCU Honors College has been such an integral part of my college journey and has allowed me to connect with like-minded peers and become part of a vibrant learning community."
Nominees for award were judged by the selection committee based on their personal essays and letters of support and a detailed account of academic and co-curricular accomplishments. Four Honors students from other colleges and universities across the state were also nominated for the award.
"Kameron is an exceptional student, who has distinguished herself from her peers both in the classroom and as part of the Honors community," said Honors College Dean, Scott Breuninger, Ph.D., who nominated Jones for the award. "Her work demonstrates tremendous potential for future growth. Not only is she an excellent thinker, but Kameron is also reliable, friendly, and innovative: In short, she is one of those people who brings a great deal of energy and academic rigor to all her endeavors."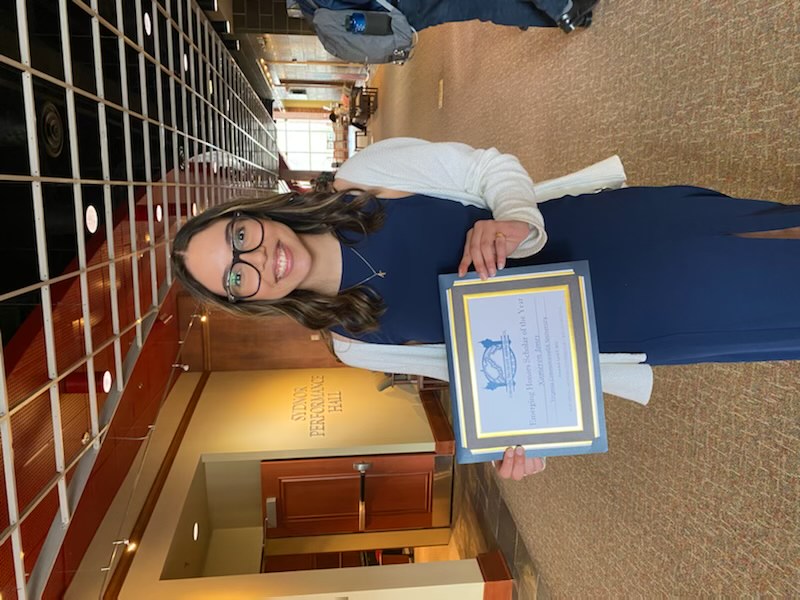 Breuninger praised Jones for conducting research that has a positive and tangible impact on human, while also demonstrating traits of a compassionate leader and scholar.
"Kameron's creative problem-solving, enthusiasm, leadership and commitment to helping others has created valuable connections of support in a time where support, care and connection are much needed," Breuninger said. "Service to others is of great importance to this outstanding scholar. She is already making a positive difference in the lives of others and she will be an asset to her community colleagues, future patients, and their families."
Jones credited Honors College faculty with helping her realize her research interests.
"I'm especially grateful to have the opportunity to learn from amazing instructors like Professor Boyes and Professor Tyndall who have encouraged and challenged me to think critically, to step outside of my comfort zone and to explore my passions," Jones said. "I'm looking forward to continuing my education and pursuing my goals within the Honors College and beyond."
In addition to receiving the award, Jones (right) also presented research at the conference. Jones' session examined morbidity and mortality in Native American women. Five additional Honors College students also presented their research at the conference:
• Rohan Rathi (second from left): Impacts of TRIM72 on Bleomycin-Induced Injury and Pulmonary Fibrosis: An In-Vitro Approach
• Kenza Benkirane (fifth from left): Prescription Stimulant Misuse by Undergraduate Students at Public Universities in the United States: The Prospective Benefits of an Integrative Peer Mentoring Program
• Emma Geisler (center left), Elysia Lin (center right) and MiJin Cho: A Student-Led Community Initiative through Narrative and Art (Poster Session)
Students were accompanied at the conference by Honors College Senior Associate Dean and Director of Academic and Faculty Affairs, Jacqueline Smith-Mason, Ph.D. (left).
VCHC is comprised of universities, colleges and community colleges throughout Virginia and West Virginia.