Two Honors Faculty Members Receive Grant to Create Learning Modules Around Health Inequities, Disparities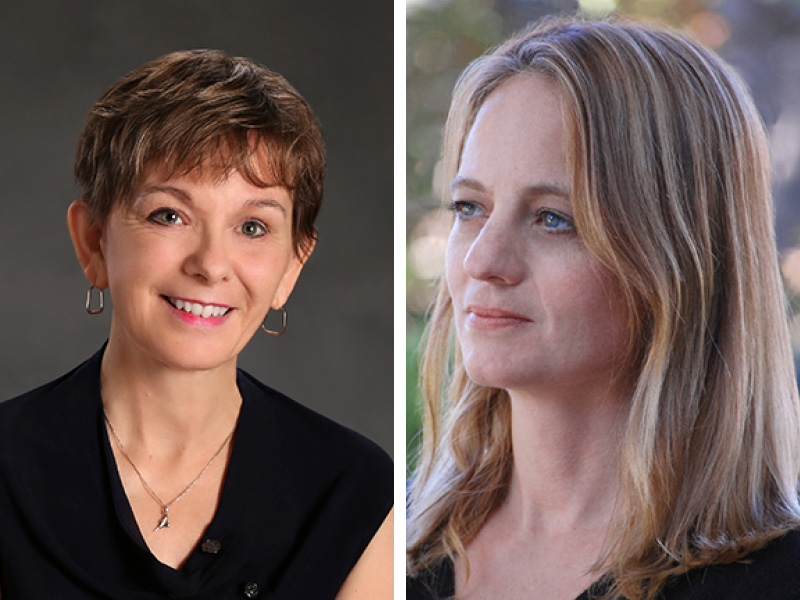 By William Lineberry
Honors College, University College
lineberrywd@vcu.edu
Two Honors College faculty members have received a grant to create interdisciplinary-learning modules around health and healthcare disparities and inequities.
Mary Boyes (right), Honors College Associate Professor, and Faye Prichard (left), Honors College Assistant Professor, were announced as recipients of the Virginia Commonwealth University Humanities Research Center Health Humanities Lab Faculty and Community Fellows initiative in late January.
Boyes and Prichard's modules, once complete, will become part of the History and Health initiative supported by the VCU Office of Health Equity where it will be available publicly and for use within classes on the Monroe Park and VCU Health campuses.
The module must address through an interdisciplinary lens healthcare inequities "including those impacting BIPOC, LGBTQIA+, disabled, and other marginalized and minoritized individuals and communities." Boyes and Prichard will focus their modules on maternal mortality in the Black community.
"Maternal mortality is one of those 'hidden' issues of systemic racism and classism in the U.S.--issues that are inextricably linked," Boyes said. "It is shocking that in the U.S., Black child-bearers die three times more often than their white counterparts. Systemic, societal issues like maternal mortality are often difficult to detect and understand."
In addition to Boyes and Prichard's modules, two community members chosen as recipients by the HRC will also create complimentary modules around a related health and/or healthcare issue.
"Receiving this grant is a great honor and reflects our faculty's unflagging commitment to using their scholarship and research to support issues of diversity, equity, and inclusion in a practical manner that makes a positive impact upon our community," said Dean of the Honors College, Scott Breuninger, Ph.D.
Boyes said through the modules that she and Prichard hope to create a better sense of understanding around maternal mortality. The hope being that future generations can be better aware of the issues faced by Black mothers and work to create solutions, she said.
"It is our hope that this module, created for students and staff at VCU, will allow more people to gain an understanding of this issue so that they can contribute to change both in policy and in practice so that expectant BIPOC mothers can garner access to quality healthcare," Boyes said. "Ultimately, understanding equals change."